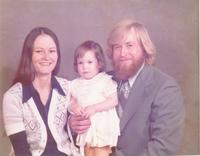 Anita Carpenter (Steele) Dec 31 1950 - March 2, 2003
According to Anita's daughter, after CHS she attended Andrews College in Cuthbert, GA.

She married James R Steele in 1971 and had one child, Brenda, before he died in 1977.
Her daughter said Anita worked for the Muscogee County School District as a para-professional or teacher's aide, helping children with learning difficulties.

Anita was born December 31, 1950 in Columbus and died March 2, 2003 also in Columbus. She is buried in Parkhill Cemetery.