Thank you to all who have made a gift. We have exceeded our goal, but it is not too late to add your donation. Please join us in making a gift in support of Columbus High School in honor of the 50th Reunion of the Class of 1969. Your donation will go for two purposes:
towards construction cost for the logo section of an alumni wall at CHS, which will serve as a long-term fundraising project.
to grow the CHS Endowment for Excellence fund, which supports educational excellence and individual development of students at Columbus High.
We are partnering with the CHS Alumni Association to ensure that your tax-deductible contribution is used wisely and effectively to support CHS students.
We are excited by these opportunities for giving. Columbus High is routinely recognized today as one of Georgia's Top 10 public high schools. (In fact, it is usually ranked in the Top Five.) What this means is that today CHS and its students are bringing honor and recognition to our alma mater.
CHS's bright and promising students—nearly all of whom go on to college—benefit greatly from the Endowment for Excellence which pays for items like:
advanced placement tests,
school trips to museums and historic sites,
laboratory equipment,
learning materials,
academic competitions,
other expenses not covered by state or local funds.
The alumni wall is the CHS Alumni Association's major fundraising plan. Our class gift will fund the logo section of the wall. The Alumni Association is already pre-selling engraved bricks. Over time, as the wall is filled with purchased bricks, significant additional funds will be added to the endowed fund. The wall will be constructed along the Cherokee Avenue side of the School to complement the existing Centennial Wall (see below).
We are grateful to the eleven generous classmates who made early commitments to give over $15,000 towards our class gift. Please join them by donating to enable the Class of 1969 to make a major impact contribution to the CHS Alumni Association in honor of our 50th reunion. Our donations can help ensure that students at Columbus High School can participate in excellent supplemental educational opportunities at one of the best high schools in Georgia.
CLICK HERE to make your donation for CHS to be part of our Class of 1969 50th Reunion Gift Campaign.
CLICK HERE to see a list of your generous classmates who have already made a donation.
Double your gift: One of your classmates will match all donations made during reunion registration up to a total of $5,000. Thanks to all that donated to get us to our goal that allowed the additional $5000 donation to be made.
NOTE: Many of us made a reunion contribution in 2018. The original donation request by the CHS Class of '69 Reunion Committee was to help with reunion planning start-up expenses that needed to be covered before reunion registration payments were received. Those gifts made a major impact on the Committee's ability to plan the outstanding reunion weekend we will enjoy in May. Thanks to all who supported the reunion start-up.
This new opportunity for giving a tax-deductible gift is to support CHS students through the CHS Alumni Association.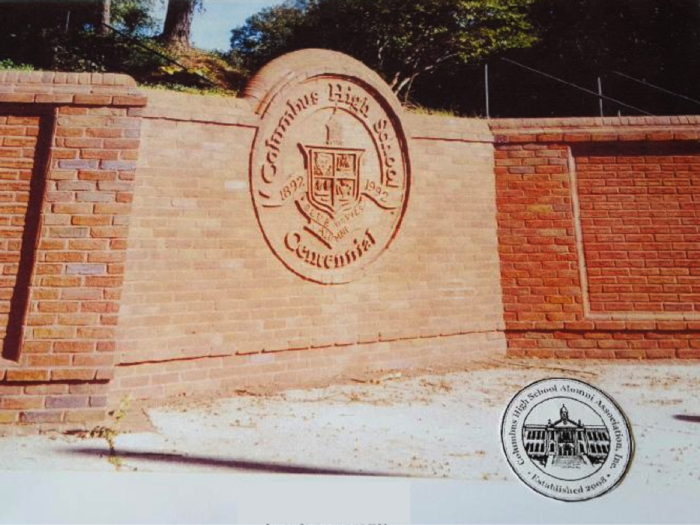 The new Alumni Wall will be similar to this existing CHS Centennial Wall. Our Class Gift will pay for the center logo section.