Every successful reunion requires many people who work long hours and make major contributions. Our 50th Reunion, with eight Optional Events, a tour of CHS, and two major evening events, required the time, talent and treasure of many in our class. Here are a few we'd like to thank for their special contributions:
Saturday evening planning and organization: Patty Harrell Branch, Allen Denham and Ann Deaton Land
Saturday tour of CHS planning and organization: Kathy Burns, Emily Mackey Deal, Jimbo Martin and Suzan Miles
Friday evening planning and organization: Joan Prather Miller, Denise Brown Owens and Berkley Dashiell Tante
Optional Events hosts: Phil and Ivy Rowe Harris (National Infantry Museum tour) Denise Owens Brown (t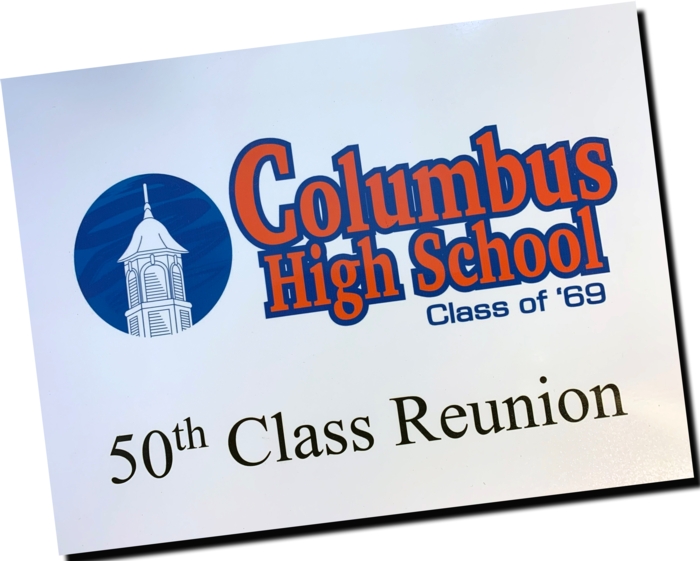 our of historic homes), Otis White (walking tour of downtown), Dewain Carroll and Weyman Johnson (Ma Rainey House tour), Eddie Fox (Civil War Naval Museum tour), Allen Denham (golf outing at Country Club of Columbus), Judy Hamilton Grubbs (backstage tours of Springer Opera House and RiverCenter), Dewain Carroll and Mattie Hall (preview of the CHS Desegregation History Project)
Classmate outreach and recruitment: Kathy Burns and Emily Mackey Deal
Class Gift campaign: Gayla Jones Von Ehr
Gift bag organization: Patty Harrell Branch and Ann Deaton Land
Music for Friday night and the digital soundtrack gift: Jimbo Martin
Dial a Devil design, organization and printing, and Reunion nametags: Janice White Morris
CHS '69 glass suncatcher and class logos: Allen Denham
Memorial for departed classmates (luminaria bags): Debra Miller Caldwell
Website management: Janice White Morris and Otis White
Organization of class list: Susan Peavy Brooks
Outreach to teachers: Anne Ramage Pitts
Financial management: Berkley Dashiell Tante
Overall Reunion coordination: Twila Rhodes Kirkland
Please see our Reunion committee list. The Reunion Planning Committee began its work in January 2017. For two and a half years, this group of classmates met quarterly, then every other month, then monthly and then weekly to plan the events we enjoyed.
Final note: Two of our classmates made significant financial contributions to the Reunion but wished to remain anonymous. Thank you.