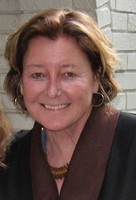 Ann
King
September 22, 1951-
March 7, 2012
ATLANTA, GA- Theresa Ann King, left this world on Wednesday, March 7, 2012. Ann was born in Columbus, Georgia on September 22, 1951, the daughter of Robert A. "Pete" King and Doris Coker King (Newsom). Ann was very proud of her parents and sisters Carole and Sally, and her Columbus roots.
She was a 1969 graduate of Columbus High School and graduated from the University of Georgia in 1973 with an ABJ in Journalism. After College and during the glamour days of air travel, Ann became a flight attendant for Delta Airlines and traveled the world.
In 1984 Ann founded Blooming Cookies, an Atlanta-based multi-million dollar nationally recognized gift company. Ann provided support and advice to others seeking to start their own businesses and often spoke at conferences and in classrooms about her experience in starting and running a successful business. Ann won numerous awards and recognitions and was widely known and respected in the business community.
If someone needed help, Ann was the first one there. She was a friend to all animals. After closing Blooming Cookies in 2007, she founded Save Our Pets Food Bank in an effort to provide food to the pets of people who were struggling with the poor economy. Putting her CEO mindset to work, she navigated the pet food bank to national prominence and became a mentor to others in that area.
Ann was a creative genius, a beautiful woman, and a gentle soul. She is survived by her two sisters: Sally Burger of Pulaski, Tennessee, niece Anne Lindsey and nephew Brandon, and Carole Kendall of Columbus, niece Annesley and nephews Ran and Rob. She will be greatly missed by many close friends who loved her dearly.
A memorial service for Ann will be held at 2pm on Saturday, March 17 at the Virginia Highland Church, 743 Virginia Ave. NE, Atlanta. In lieu of flowers, we request that you make a donation to the organization Ann founded, Save Our Pets Food Bank (saveourpetsfoodbank.org).

Published in Columbus Ledger-Enquirer on Mar. 14, 2012