Since January 2017 the Reunion Committee has been working on plans for our 50th Reunion on May 16, 17 and 18, 2019 in Columbus. Over these months, we have designed a Reunion that we think will be distinctive and memorable.

What makes this Reunion distinctive
We are having three days of activities instead of two. Beginning Thursday afternoon, May 16, we will have a set of Optional Events that we think will appeal to many of our classmates.
We have a theme, which is showing our classmates how Columbus has changed since 1969. Many of our activities are designed to highlight the exciting changes that have taken place in Columbus.
We will have Major Events on Friday evening and Saturday evening. In the past, the Friday evening gathering has been a casual event in a bar or restaurant. This time, we want to do something bigger and more memorable.

For Friday evening, we are renting the Powerhouse, a brand new event space on the Riverwalk downtown. The view from there of the Columbus whitewater and the downtown is spectacular. We will have food and drinks and lots of opportunity for conversation.
The Saturday evening event will be as it usually is, a sit-down dinner and dance at the Country Club of Columbus. We are adding a "quiet room" option for conversations away from the music.
To pay for the Friday evening and Saturday evening events, we want to charge a reasonable amount. The price we have settled on is $125 for classmates and $75 for guests for BOTH events.

We will also have a separate free event, a tour of Columbus High on Saturday morning, from 10 a.m. to noon. All classmates and their guests are invited, whether you attend the other Reunion activities or not. (We will ask that you sign up, so we can manage the tours.) Following the tour will be lunch on your own. (We'll have some suggestions of where to go to visit with classmates.)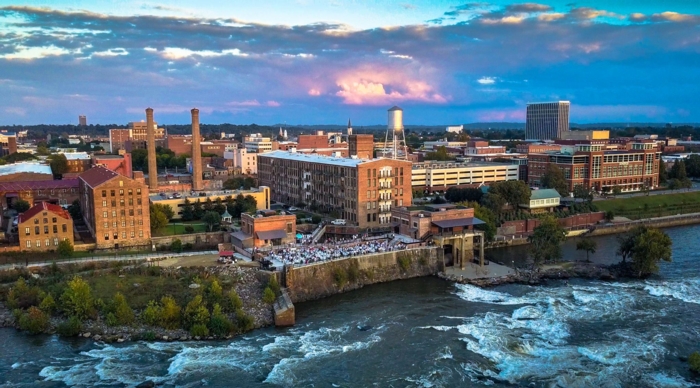 How will the activities be scheduled?
| | |
| --- | --- |
| Thursday afternoon | Optional Events including a tour of the exciting new National Infantry Museum, a walking tour of Columbus' restored downtown and a tour of two historic homes. |
| Friday | More Optional Events including a Whitewater outing, tours of the National Civil War Naval Museum, the Ma Rainey House/History of the Blues, and the Springer Opera House and the RiverCenter, a preview of the CHS Desegregation History Project, and a golf tournament. |
| Friday evening | Class mixer, with food, drinks and conversation, at the Powerhouse on the Columbus Riverwalk. You can see it in the photo above. It is at the center of the picture. |
| Saturday | Tour of CHS followed by a lunch on your own (but hopefully with classmates). |
| Saturday evening | Dinner and dance with a live band at the Country Club of Columbus. We'll have souvenirs for classmates and a "quiet room" for friends to catch up. |
The Reunion hotel
We have selected a Reunion hotel. It is the Columbus Marriott at 800 Front Ave, which is in easy walking distance of our downtown activities. The discounted rate for classmates is $129 a night. (This is a limited offer. Details are on the home page.)

Why are there so many optional activities?
A lot has changed in Columbus since we were in high school, and we felt that different people would find different things interesting. Some would love the Whitewater experience; others would prefer to see the new Columbus Museum. So we wanted lots of options.
To get a sense of how much Columbus has changed since 1969, please visit our Columbus Today page. And look at our Chattahoochee Scenes photo gallery.

Why is the school tour free?
We have two goals in designing the Reunion. One is to make this milestone Reunion special. The other is to make it as inclusive as possible. By offering the CHS tour separately from the Friday night and Saturday night activities and making it free, we can offer at least one event where you can visit with your classmates without cost. (We hope you'll consider participating in the optional events and paying $125 for BOTH the Friday and Saturday evening events. We promise it will be a great party.)

What do you need to do now?
Register and pay for the Main Events (Friday Evening at the Powerhouse, Saturday evening at the Country Club) and sign up for the free tour of CHS. You can do that at this webpage. Hurry! The deadline for registration is May 1, 2019.
Sign up for the Optional Events on Thursday and Friday. (It's a great way of seeing the changes in Columbus and hanging out with old friends.) You can see all the Optional Events and find a link for registration at this webpage.
Finally, please consider contributing to our Class Gift for Columbus High in honor of our 50th Reunion. You can learn all about this gift, how much we aim to raise, and how it will be used by visiting this webpage.
See you in Columbus on May 16!